Santander Universities Scholarships
At Providence College, Santander Universities supports undergraduate student opportunities for international study and service through diversity scholarships and service-learning grants. The diversity scholarships are offered for under-represented students in study abroad. This includes students from under-represented racial/ethnic groups, first-generation college students, and students with physical or learning disabilities. The global service-learning grants are available to both individuals and College-sponsored groups. Students must be participating in the increasing and varied number of service opportunities abroad.
Eligible students may receive up to $2,500 for short-term programs and up to $5,000 for semester programs. Students can also receive up to $8,000 for academic year programs. Santander Universities and Providence College are currently in year six of a 10-year partnership, following a seven-year agreement extension in 2013. Since 2010, Santander has invested more than $1.2M in global education at PC, helping more than 400 students who sought to globalize their PC experience. Recipients of Santander awards have studied more than 52 different countries including Australia, Belize, Denmark, Ecuador, Ghana, Morocco, Costa Rica, Thailand, and the UK. In addition to academic support, Santander is the official sports sponsor of Providence College's athletic program. This marks the first time Santander has entered into a college sports sponsorship in the United States.
Santander Experiences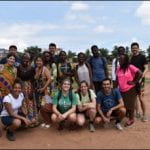 "The Santander Scholarship was of great help for me to accomplish this lifelong dream. It was a truly remarkable experience and one that will mark the rest of my life. Scholarships like this one have the power to change students' lives. Everything I lived and learned there is partly due to this scholarship and I will never forget that."
– Carlos Perez '19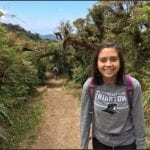 "I wanted to do everything I could to preserve the incredible world around me and I'm now looking into a future in conservation biology. I saw so much beauty in my time abroad that I realized I can work to make a difference and hopefully help others save our planet as well. This trip was truly life changing and I'm very thankful for the Santander grant for helping me get to Costa Rica."
–Janelle LaFlemme '19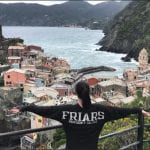 "I have seen and experienced incredible moments because of the support. I skied in the Swiss Alps and watched the light snowfall from the sky like gold glitter at the top of a mountain. I also laughed all day once as I rode bikes in the Aran Islands in Ireland. It was a dream come true to ride past rolling green hills, stonewalls, sheep, cows, and the water on a bike in Ireland. I have more importantly received the gift of joy, bliss and sacred memories because of the generosity of Santander."
– Amanda Piechota '19
Service-Learning: Justice Across Borders
The increased knowledge, concern, and personal stake in these issues created by our trip and this class is inspiring. We now better understand our role as global citizens and our relationship to others in the world. The more we learn about the troubles facing the people of Tijuana, the more we care about our service work. This trip existed prior to the creation of the class. However, those who have experienced both agreed that the addition of the class enhanced this year's experience. The class better prepared us to make connections with the people that we worked with on the worksite. Through this we understand how important it is to integrate education with service.